TallyPrime on AWS product plans provide flexibility to use Virtual Machines in many different ways, depending on your business requirements and convenience. You might be working at other times of the day or may have a specific working period. Let's say, You generally work at different periods of the day. You can consume the 12 hours as per your plan by using the virtual computer at different hours of the day; for example, 10:00 AM to 2:00 PM (4 hours), 3:00 PM to 8:00 PM (6 hours), and 9:00 PM to 11:00 PM (2 hours). Alternatively, you can choose to use the virtual computer from 9:00 AM to 9:00 PM (12 hours) in one go. In case you want different people to use the same computer with the same credentials, you can do so with this flexibility. Virtual Machine will get a scheduled shutdown at 12:30AM and 3:00AM.
The virtual machine keeps a record of your usage based on your start and stop time. You will also be notified about the total usage as the usage hours are close to the daily usage limit of the plan.
Open Virtual Machine Usage Information screen and click Start > Information > Virtual Machine Usage.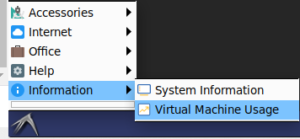 The Virtual Machine Usage Information screen appears.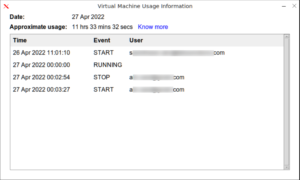 You are able to view the duration when a user start/stop the usage of Virtual Computer.
Date – Today's date
Approximate Usage – Total number of hr:mm:ss remaining for the day
Time – Exact time when the virtual computer is in use
Event – The events convey the usage status of the virtual computer such as START, STOP, RUNNING
User – Email ID of the user.
You will be notified when you have consumed 11:45 hrs out of 12:00 hrs.
Note: Any additional usage post the usage limit is charged hourly as per your plan. You can contact your administrator to shut down the Virtual Computer from the Self Service Portal to avoid any additional usage.



Note: If you are not able to open Virtual Machine Usage report and the below error screen appears, try again sometime later or contact support.